The High Street in Blakeney is lined with grade II listed properties. In the High Street may be found the Methodist Chapel and Café TMC, entrances to the Coronation Lane Visitors' and Residents' car parks, Blakeney Cottage Company, the Blakeney Deli, the White Horse Hotel, Blakeney House B&B, the Moorings restaurantand several gift shops and art galleries.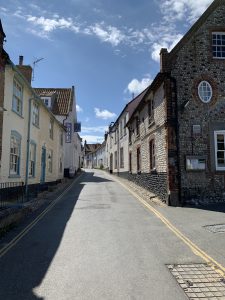 Running down to the west end of the Blakeney Quay, (The Quay). Westgate Street was once known as Pig Street.
It is the home of the Spar supermarket (and Post Office), Weston's fish shop, the BuoyCoffee house, art gallery and a clothes  and gift shop. It is also home of the Kings Arms pub.
Back Lane runs from the Coast Road (A149) at the junction with the High Street and Wiveton Road north and leads into Blakeney Quay by the Manor Hotel and Blakeney duck pond.
As it reaches the point where it turns left towards the quay there are magnificent views over the Blakeney freshes.
At the junction with the Coast Road makes be found St. Peters Catholic Church.
New Road is part of the Coast Road (A149) from the Village Hall crossroads in the west to the High Street/Back Lane/Wiveton Road junction in the east near St. Nicholas' Church.
As it runs through Blakeney it has, at the west end, the Pastures to its north, the playing fields, village hall and car park to its south. Further east is the War memorial.
Little Lane runs from the High Street to the New Road where it skirts the East side of the Pastures where it joins New Road is opposite Blakeney Playing fields.
Coronation Lane runs vetween Back Lane and the High Street where it joins Coronation Lane car park.